Landscape Lighting Service in Tulsa, OK & Surrounding Cities Like Owasso & Broken Arrow
Our landscape lighting systems are Bluetooth-compatible!
If you want to bring your outdoor living space to life after the sun has set, you've come to the right place. At LBR, we offer our professional landscape lighting service to residential properties in Tulsa, OK, and surrounding cities like Owasso and Broken Arrow. We use LED lights to provide long-lasting and energy-efficient illumination, plus our systems are Bluetooth-compatible so that you can control it from your smartphone! What's more, we can also perform repairs, so if anything breaks or malfunctions, you can trust us to fix it.
---
We use LED landscape lighting to provide long-lasting, energy-efficient illumination.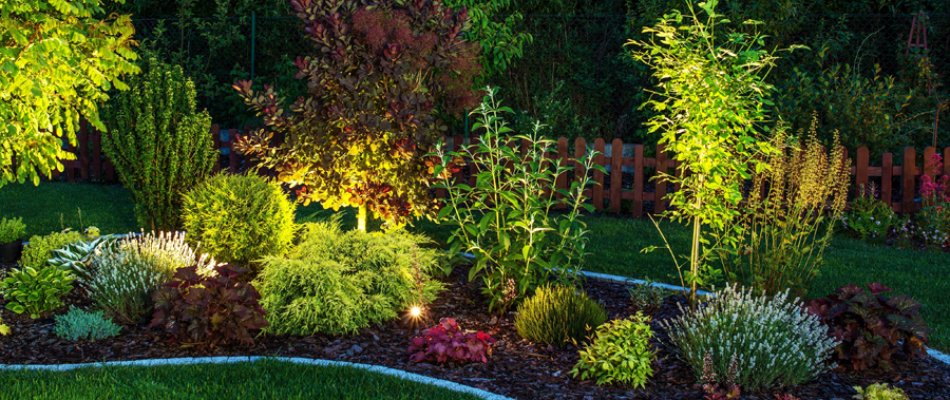 We only use the best products to provide exceptional results, and our landscape lighting service is no different. So, we'll install your system using LED bulbs! LEDs emit very little heat, so they're highly energy-efficient and won't inflate your electric bill. Additionally, they're long-lasting, illuminating your outdoor space for up to 50,000 hours and saving you the trouble of constantly replacing them! These landscape lights are also durable and can withstand drastic temperature changes, so you don't have to worry about them during the different seasons. With our LED landscape lighting, you can enjoy your outdoor space at night year after year.
We offer various landscape lights to satisfy your needs, including path lights, down lights, area lights, and more.
---
Our Landscape Lighting Systems Are Bluetooth-Compatible
At LBR, we strive to provide services that are as convenient as possible for our customers, which is why our landscape lighting systems are Bluetooth-compatible. This means that you can control them with your smartphone, making it easy to turn them on and off, change their colors, adjust their brightness, and more. You can also set timers for them to turn on and off at certain times, so you don't have to worry about forgetting to do it again!
---
We don't just perform landscape lighting installations but repairs, too.
We take pride in the quality of our landscape lighting service and feel confident that your system will stand the test of time. However, we understand that things happen, so if it breaks or malfunctions, we've got you covered. After all, not only do we install landscape lighting systems, but we can also repair them. We'll come out and thoroughly inspect it before diagnosing the issue. Then, we'll promptly rectify it so you can continue to enjoy them. We've been installing and repairing landscape lighting systems for 20 years, so you can trust that we have the knowledge and experience to do it right the first time.
We guarantee your satisfaction with our landscape lighting service, or we'll do whatever it takes to make you happy!
---
Call Us Today to Sign Up for Our Landscape Lighting Service
Are you ready to take your outdoor living space to the next level? If so, we can help you achieve that goal via our landscape lighting service. Our team at LBR will install LED landscape lighting that is also Bluetooth-compatible to make them easy to use and ensure you can enjoy them year after year. Not only that, but you can also rest assured that if anything happens to them, we're your go-to for repairs!
We offer our landscape lighting service to residential property owners in Tulsa, Owasso, Broken Arrow, and throughout the nearby areas in Oklahoma. Call us today at (918) 252-5296 to sign up and keep your outdoor space bright even at night!