We provide landscaping services in Tulsa, Owasso, Broken Arrow, OK, and nearby areas.
Our team offers landscape design, sod installation, plantings and softscapes, brush hogging, and more.
Your landscape plays a huge role in your property's curb appeal, so you'll want it to look its best all year long. At LBR, we offer various landscaping services to do just that, including landscape design, plantings and softscapes, annual flowers, sod installation, outdoor lighting, and holiday lighting. Our team can also provide hydroseeding, top dressing, landscape bed weed control, drainage and grading, and brush hogging. These services are available to homeowners in Tulsa, Owasso, Broken Arrow, OK, and nearby areas.
---
Landscape Design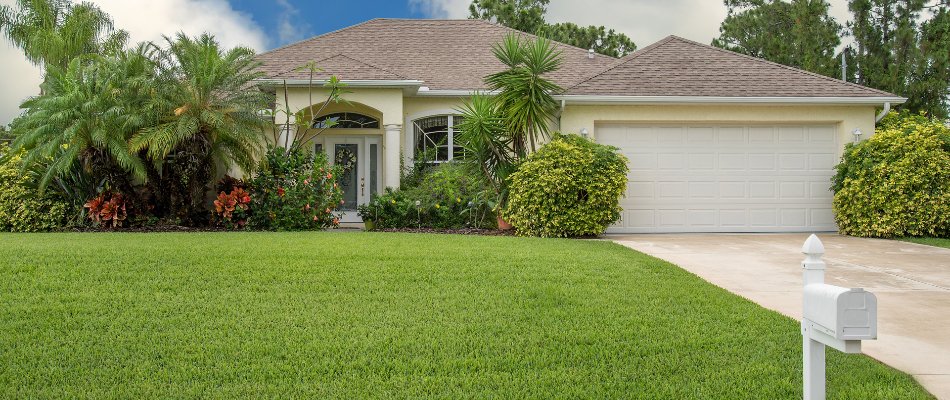 Behind every gorgeous landscape is a well-planned design and layout, and that's what we're here for. We offer a landscape design service that involves creating a 2D or 3D rendering of your project so you can envision how it will look before installation begins.
---
Plantings & Softscapes
Our plantings and softscapes service is a great way to enhance the aesthetic appeal of your property. We can install new landscape beds or renovate your existing ones to restore their pristine looks, then fill them with colorful plants and flowers!
View Plantings & Softscapes
---
Annual Flowers
Our team offers an annual flower installation service to give your landscape a much-needed color boost during different seasons. We can incorporate fall and summer annuals to provide a lively display of blooms that will stand out on your property.
---
Sod Installation
If you want an instantly green lawn on your property, our sod installation service is just what you need. For this service, we follow a rigorous preparation process to ensure the installation is successful and your new grass can establish its roots properly.
Our team offers bermudagrass and zoysia sod options for our sod installation service.
---
Hydroseeding
Our hydroseeding service is perfect if you want to grow grass on large areas, slopes, and uneven terrain. This service involves prepping the area, raking the soil, and applying the slurry mix that contains grass seeds and nutrient-packed fertilizer.
---
Top Dressing
Our top dressing service is designed to improve the quality of your soil, promote healthy grass, and smooth out your lawn to create a more attractive look. When you sign up for this service, we'll spread the right amount of top dressing material to ensure you get the best results.
---
Landscape Lighting
Illuminating your property at night is a great way to showcase your landscape's features while increasing safety. Our team can help with that via our landscape lighting service, which utilizes LED lights that we can equip with Bluetooth connectivity. This way, you can effortlessly monitor and control your lighting display from your phone.
---
Holiday Lighting
The holiday season can be stressful with all the necessary preparations you need to take care of, so we want to help by taking one task off your list! Let our team brighten up your home via our holiday lighting service, which utilizes custom-cut lights that fit your property perfectly.
If you encounter an issue with your holiday lights, we'll be there within 24 hours to address it.
---
Landscape Bed Weed Control
Our landscape bed weed control service will keep your landscape beds free of invasive and unappealing weeds. We can spray the weeds with herbicides or pull them by hand; no matter the method we use, we'll get the job done.
---
Drainage & Grading
If you're dealing with poor drainage and pooling water in your yard, we can help fix that via our drainage and grading service. Our team offers different drainage and grading solutions to redirect water away from your property.
---
Brush Hogging
Our brush hogging service is the perfect way to get your property spick and span. We can clear thick, overgrown vegetation from your land or field using only the best equipment to ensure we get the job done.
---
Call us today to schedule our landscaping services.
If you're looking for a team that can handle your landscaping needs, look no further than our seasoned crew at LBR. We provide top-notch landscaping services for residential properties in Tulsa, Owasso, Broken Arrow, OK, and nearby areas. Give us a call today at (918) 252-5296 to schedule our services.